2019 Hyundai Tucson Long Beach CA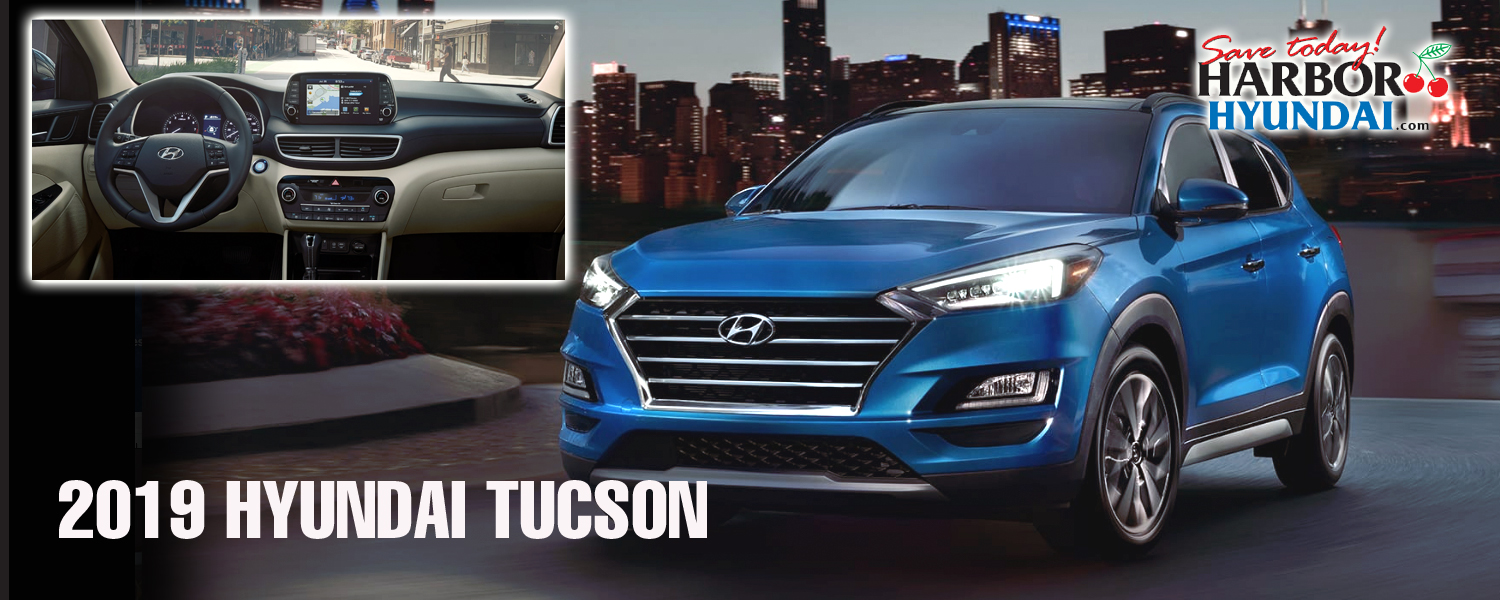 When Size and Value Matter
Often, when you talk about size, you think of a larger model, but with the Hyundai Tucson, you're looking at a compact crossover SUV that has the comfortable size you want for your drive. This little SUV is packed with the features you want for your daily drive around Long Beach, CA. Stop by and see our team at Harbor Hyundai and take a look at what this vehicle has for you today.
The Tucson Fits Your Lifestyle
Whether you have a growing family or you're simply an active person, the same protections and conveniences are desired. Take a look at the Tucson models we offer and you'll see a power tailgate in the rear that makes loading and unloading easy for you. This feature is perfect when you've got an armful of stuff and don't want to do the foot wave under the bumper. Just stand behind the vehicle with the key fob in your pocket and the gate opens. The upholstery is protected by the Yes Essentials stain protection to give you the ability to keep the fabric clean even after an adventure out on the trails.
Get Inside and Take a Ride
Let one of our team members open the door to the Hyundai Tucson you're going to want to drive around on the roads of Long Beach, CA. You'll notice a fresh interior look in the center that has a new infotainment center, panel vents, rearview monitor, instrument cluster, and new leather-covered seats in the Limited trim models. You're going to love the comfort of the seats and the generous amount of storage space behind the rear seats that make it easy for you to carry cargo and passengers with you to your destination.

Attractive and Impressive
Step on our lot at Harbor Hyundai and take a look at the Tucson models offered that bring sporty style and impressive looks for you. The Tucson is created with a beautiful balance of curves and lines that are mated with a conservative approach to the look you want. This SUV rides on some amazing alloy wheels and brings you what you want when you drive. You're going to get excited when you see the Tucson that can become the right model for you to enjoy every day. Let's take a test drive so that you can see what this impressive SUV has for you.
Affordable Value in the Tucson
The Hyundai Tucson is the right size for you to have an easy and efficient drive every day. This SUV packs a lot of features for your pleasure on the road. Let our team show you how you can have the best deal possible on this SUV when you stop by today. We are the home of the sweet deal and will make sure you can drive the Tucson you choose home with you today. Don't hesitate, come in and pick out the SUV that's right for you and start driving around classic Long Beach places such as The Queen Mary and Knott's Berry Farm with a smile.

Why Buy from Harbor Hyundai?
From quality Hyundai vehicles to outstanding customer service, we offer you nothing but the best here at Harbor Hyundai near Long Beach, CA.
We understand that shopping for a vehicle can be a tedious process with a number of choices that you have to make and some of those you may have never been faced with before. Well, when you shop with us you don't have to worry about the hassling and haggling you might find elsewhere, because our team is purely focused on YOU, the customer.
Can't decide between new or used, to buy or lease? The decision is yours and we're here to help you with whichever choice and vehicle you decide to roll with. We want you to feel at home in our Hyundai showroom and to never feel pressured which is why we work so diligently to help you secure the financing options you need so you can get behind the wheel of the vehicle that you truly desire to be in. Whether you're shopping with us online, over the phone or in person we guarantee we can find a driving solution for you and yours.
From sales to financing and service, our state-of-the-art facility and All-Star staff are well-equipped to handle all of your vehicular needs. Come out to Harbor Hyundai today and discover how much our team and your new Hyundai Tucson can do for you.