2019 Hyundai Ioniq Hybrid Long Beach CA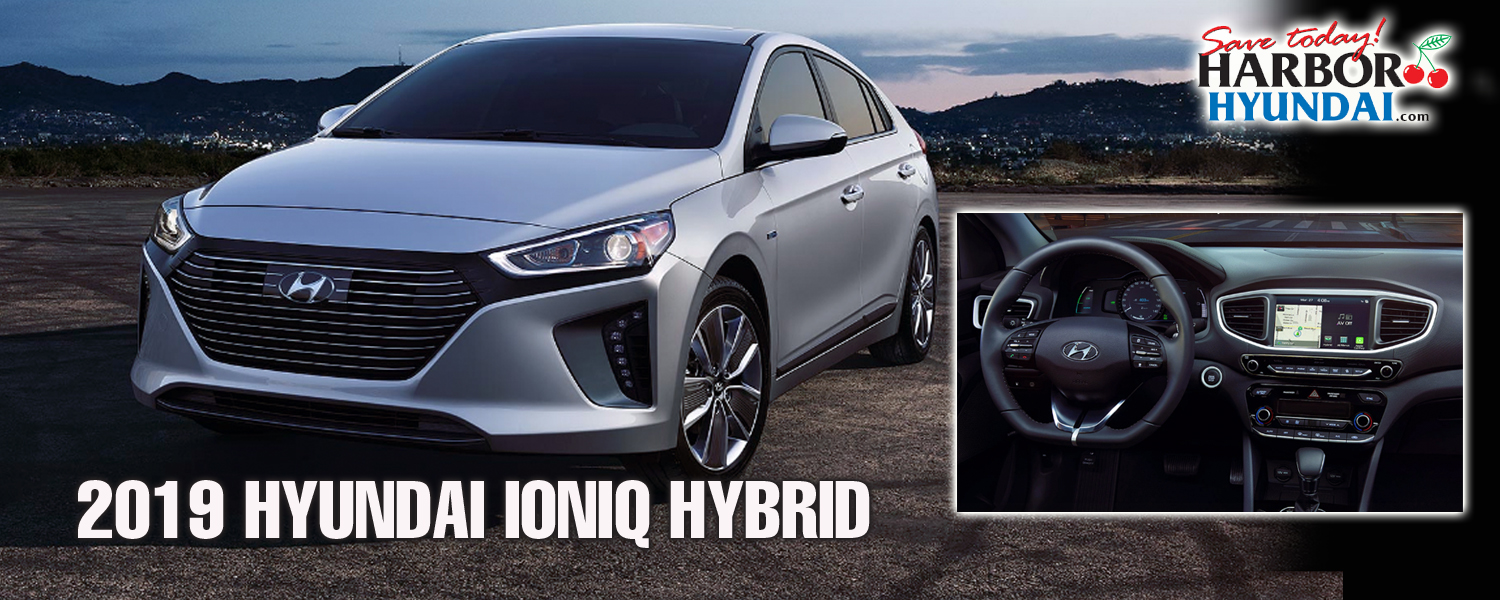 Meet the Futuristic 2019 Hyundai Ioniq Hybrid
The 2019 Hyundai Ioniq Hybrid has new electric technology under the hood and inside its cabin. Trusted, long-time dealer Harbor Hyundai in Long Beach can walk you into the future.
The Future is Now
If you've been waiting to try an hybrid car, your wait may be over. Hybrid cars are the way of the future and the 2019 Hyundai Ioniq Hybrid is ushering in tomorrow with a bang. The streamlined design of the Ioniq screams "look at me" with a fierce prominent grille and sculpted doors.
A Battery Warranty That just Won't Quit
We get it. Buying hybrid is a big step. But you will never have to worry about the life of the 2019 Hyundai Ioniq Hybrid. That's because it comes with a Lifetime Hybrid/Electric Battery Warranty. That means a complete battery replacement for the original owner. And makes it one of the best hybrid vehicle warranties.

Always Looking Forward
At Harbor Chevrolet of Long Beach, we've always moved forward without a backward glance. How could we stay in business for 90 years if we didn't? The 2019 Hyundai Ioniq Hybrid is the car that makes sense in our community that values the environment so much. We're embracing this new technology, and it makes us wonder what we'll be rolling out over the next 90 years.
Electronics of the Future
Speaking of futuristic, the 2019 Hyundai Ioniq Hybrid takes its electronics a step further with its Remote Charge Access. This handy system connects with the Blue Link® smartphone app to start and stop charging. You can also just set your phone on the charging pad to when it's running low. No cords, no plugging. Easy peasy. On top of that, the Ioniq offers Apple CarPlay® & Android Auto™ that lets you access maps, music and messages through its touchscreen.
An Old and Trusted Friend
It's a new world out there and it's easier to explore with someone you know and trust. At Harbor Chevrolet of Long Beach, we've been helping families find the cars that they need for more 90 years, so we know how to get you the right deals. We can't wait for you to test drive the 2019 Hyundai Ioniq Hybrid and really see how different a drive can be. Just imagine driving around classic Long Beach sites such as The Queen Mary and Knott's Berry Farm in your new Ioniq Hybrid.

Why Buy from Harbor Hyundai?
From quality Hyundai vehicles to outstanding customer service, we offer you nothing but the best here at Harbor Hyundai near Long Beach, CA.
We understand that shopping for a vehicle can be a tedious process with a number of choices that you have to make and some of those you may have never been faced with before. Well, when you shop with us you don't have to worry about the hassling and haggling you might find elsewhere, because our team is purely focused on YOU, the customer.
Can't decide between new or used, to buy or lease? The decision is yours and we're here to help you with whichever choice and vehicle you decide to roll with. We want you to feel at home in our Hyundai showroom and to never feel pressured which is why we work so diligently to help you secure the financing options you need so you can get behind the wheel of the vehicle that you truly desire to be in. Whether you're shopping with us online, over the phone or in person we guarantee we can find a driving solution for you and yours.
From sales to financing and service, our state-of-the-art facility and All-Star staff are well-equipped to handle all of your vehicular needs. Come out to Harbor Hyundai today and discover how much our team and your new Ioniq Hybrid can do for you.